This blog is about my Labour and Delivery and how everything I did not want to happen…..happened.
I went into Hospital on Thursday 9th October at 11:30 am to get a stretch and sweep done at 41 weeks 5 days. I had been losing my show since 4 am that morning and had started to get excited that finally, my body was doing something. My husband came with me and due to them being busy in the Day Assessment Unit we had to go to the Delivery Ward to have it done. I was put on a monitor and all seemed fine with the baby so the stretch and sweep went ahead. I was then booked in for Saturday 11th October at 9:30 am to be induced if nothing was to happen. This gave me such a big sense of relief as I now had a date for when my baby will be here.
Friday throughout the day I had started to get pains that had a regular pattern to them. They came every 30 minutes for 40-50 seconds. As this was my first baby I was confused as to whether they were contractions or not. As the evening progressed I noticed they had shifted to 40-50 seconds every 15 – 20 minutes. I tried to have a bath to ease some of the pain but it really didn't work for me. I then went to bed to try and get some sleep but was unable to as the contractions were then coming every 6-10 minutes for 45-60 seconds long. I phoned the hospital at 11:30 pm to check and they said to stay at home and ring back when the contractions were every 3 minutes for about 60 seconds. After this point, I was getting stronger and closer together contractions and had also started to throw up. After a couple of hours of this, my husband phoned the hospital and explained that I had been throwing up as well. They advise us to go straight in to get monitored.
We arrived at the hospital at 3:30 am on Saturday 11th October and I was put on a monitor and given an anti-sickness injection straight into the blood. They could see from the monitor I was contracting every 3 minutes and when checked I was 4cm dilated. Labour was in full swing. I was then asked what pain relief I had thought about and immediately opted for an Epidural. (This was also because the woman in the next room was screaming her head off). I was given an Epidural within 15 minutes of arriving at the hospital and was very much relaxed ready for the little arrival. My mum arrived 15 minutes later and we all started to have a few laughs and jokes. It was a great feeling laughing through labour that we decided to take some photos.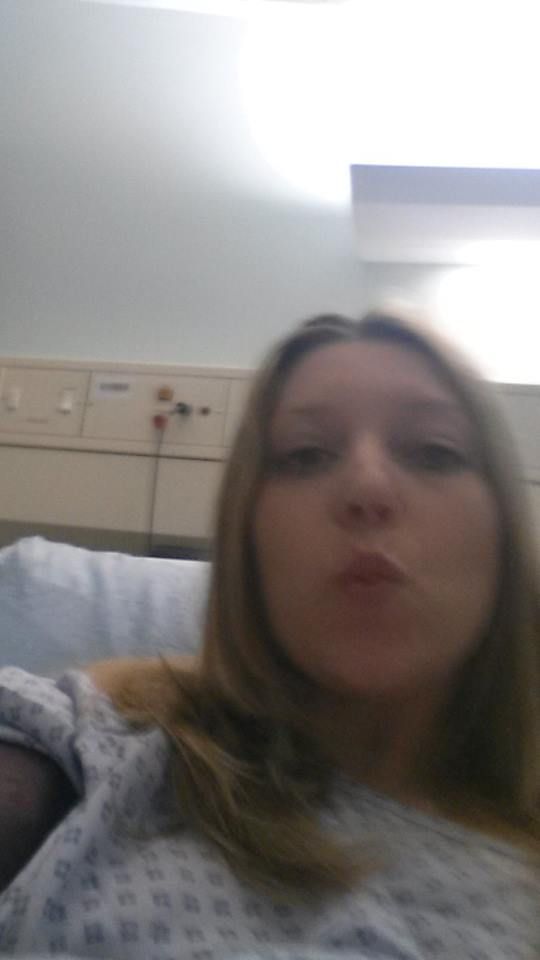 With Epidural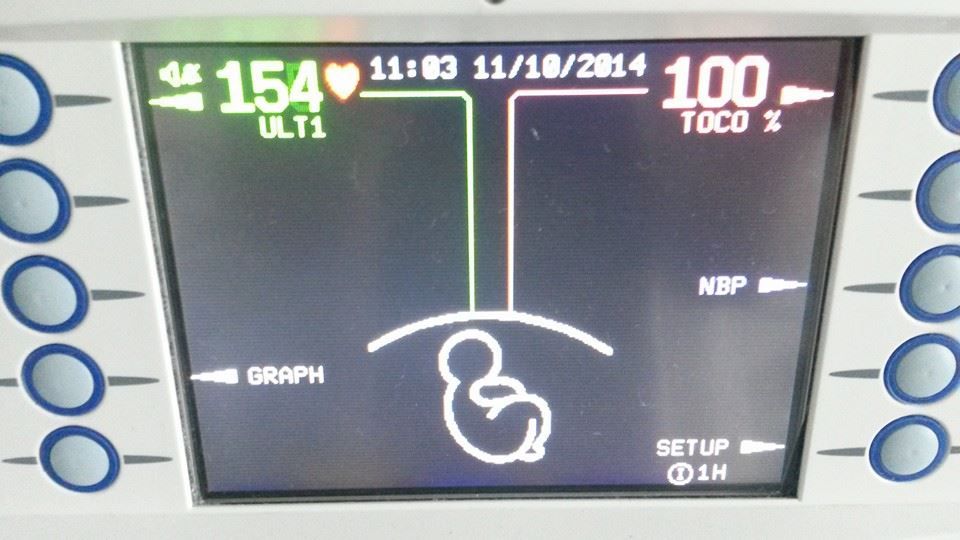 Baby Heartbeat chilled, my contractions 100%
After a while, the Epidural started to wear off and I had gone from 4cm to 5cm in an hour or so, but to 6 cm in a few hours. Totally gutted. I was then given a drip to speed up the contractions and I was given a stronger Epidural. About an hour later I had gone from 6cm to 8/9cm and the pain was starting to increase again. I was given gas and air to help take the edge off the pain.
I was told after a little while when the midwives were checking me to try pushing and to see what that would do. I pushed and pushed and apparently the head was moving in and out stretching the wall muscles in order to come out. I thought great I can do this. Then a massive surge of pain hit me. From this stage on things were a blur. I had pushed for over an hour with not much progression, that it was decided I needed to be put into stirrups and forceps were going to be used. As I was going to have an assisted birth, a doctor was on standby with a baby trolley. This scared me.
The next thing the forceps were in clamping onto the baby's head and I felt this excruciating pain. I hadn't realised that the baby's heart rate had gone up and they needed to cut me to get baby out. As they did this I tore all the way as the baby was coming out. 3rd-degree tear. She came out with her head facing up and the cord wrapped around her neck. She was plonked onto my chest briefly so I could see her, but she was blue and not crying. The doctor whisked her off to the side to be checked over and suddenly I got that relief when you hear your baby's cry for the first time.
Finally, it was almost over and I was given an injection for my placenta to come out and as they tugged it out I started to bleed heavily. They noticed I was bleeding from my uterus and the emergency button was pressed. The room suddenly filled with lots of people and I started to get confused as to what was happening. They then explained that I needed to be rushed to the theatre to try and stop the bleeding. I requested I didn't want anyone to go with me as I wanted my husband to look after our little girl. I also needed my mum to look after him. In theatre, my blood pressure dropped and there was talk about giving me a general anaesthetic, but with some oxygen, I was able to stay awake (I was numb through all this). The clock on the wall was all I stared at in theatre just counting the time away. They managed to stop the bleeding and I was stitched up.
My little girl Mabel Frances Goodland was born at 3:28 pm weighing 9lb 5oz, but I didn't get to meet her til 4:50 pm. As soon as I came out of the theatre I was introduced to her and was able to breastfeed straight away. I was one very happy and thankful mummy that everything was ok now.
Mabel Frances Goodland
I stayed in the hospital overnight as I had to have a catheter in me in order to give everything a bit of time to heal. I then discharged myself the next day and am now on the road to recovery.
This, however, has not put me off having another child. Just next time I think a C-Section might be better.
Please follow and like us: