Mabel is now 2 1/2 months old and every day/hour/minute I look at her she is changing and doing new things.
I can't believe how lucky we have been to have such a good little girl. Since she was born her nighttime feeding has always been good, going from 2 feeds down to 1 feed during the night. She sometimes wants to play at these times in the morning and it's extremely lovely when I'm tired to just see her massive smile. We have had a few nights where she has gone right through until the morning with no nighttime feed. I can only hope this increases. I know others have a different experience especially if their baby gets them up multiple times during the night or takes ages to go back to sleep. Just always think that it won't last forever. You never know tomorrow may be the day when all will slot into place.
This past couple of months have been extremely busy with Mabel meeting friends and family. She has been on a fair few long drives and is not fussed one bit. Going on a drive means sleeping time for Mabel. On our adventures, we had to stay in a hotel a couple of weeks ago for one night which I was nervous about. I was thinking would being somewhere else mess up her routine, would she wake in the night and also wake others in the hotel up. I had nothing to worry about. We had a really big room which allowed us to put her travel cot up next to the bed and she only woke up once for a feed.
                 My husband and Mabel testing the bed was comfy
Another place we visited was Crystal Palace to watch my old Cheerleading Squad compete at a competition. It was the first time I was seeing the team since I gave birth. Mabel was not fazed by the loud music and slept for most of the day. I think the earmuffs I bought from Baby Banz helped to block out the sound. She looked so adorable in them.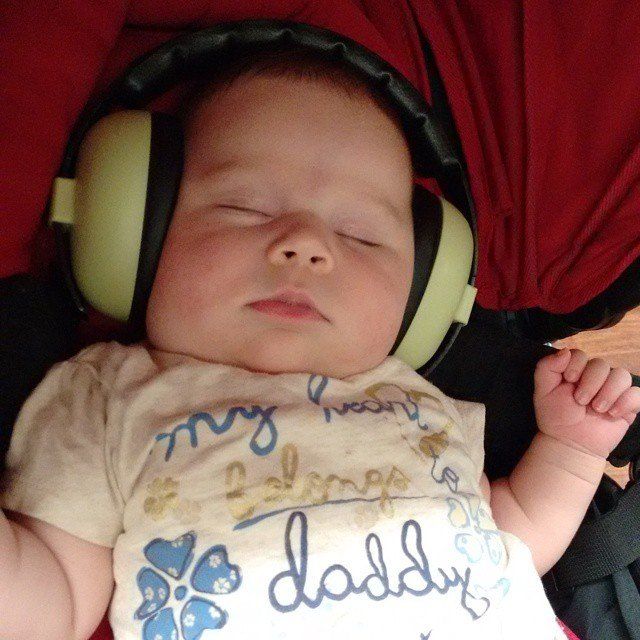 As Mabel is now awake for longer periods during the day without getting upset, I have been able to play and do activities with her. We sing songs (well I sing to her……badly), we play with Sophie the giraffe, and I also make sure she gets some tummy time. It is lovely to hear the cooing, ahhing noises as we play. (She is one loud girlie).
I bought a play mat from Ikea as part of her Christmas present and it seems to of been such a good buy. She loves laying down on the mat kicking her legs about and has now managed to find her knees. We are gradually getting there in finding her feet. When I turn her over for tummy time she is almost there in being able to roll over. She does get frustrated that she is unable to do it but I am sure we won't have to wait too long. The mat is so soft that after holding her head for a while she will then munch and lick the mat. At the moment anything seems to end up in her mouth.
Since day one Mabel has been so strong in holding her own head. I think she may be ahead of her time just like I was when I was little. I started pulling myself up and walking around the furniture at 5 months and could walk on my own by 8 months. If this is the case I have a very interesting few months ahead.
Please follow and like us: